Roy Mash and Susan Browne

Monday, February 24, at 7:30 PM
Host: Tim Kahl
1719 25th Street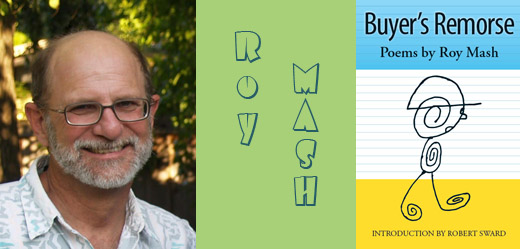 Roy Mash is a long time board member of  Marin Poetry Center. In previous guises he has held degrees in English, Philosophy, and Computer Science. Currently, Mash is appearing as a regular in the soap opera of his life, where his character can be found doodling his brief time away staring out of café windows, dabbing up the seeds that have fallen from an everything bagel, and mentally thumbing over his poems that have appeared widely in journals such as Agni, Atlanta Review, Barrow Street, The Evansville Review, Nimrod, Passages North, Poetry East, Rhino, and River Styx.
Mash's first full-length book, Buyer's Remorse, came out at the end of 2013. Charles Harper Webb describes the book as "a celebration of the non-epic and unheroic, the bad decision, the finish out-of-the-money, the cannonball we do to spite the back flip that eludes us, the inglorious lives we seem to have wound up with by mistake—not at all what we'd have chosen, but lots of laughs and, all in all, pretty damned fine."
Making the Bed

There's a moment after the sheet's
been snapped,
cast into a bosomy sky
before it lapses in a shambles
at your knees,
when it seems as if it's going to amble
perfectly, consolingly
down,
like a hand
on a troubled shoulder,
a fatherly hand
that grows gentler, featherier
with nearness, promising
falsely,
"Everything's okay. Everything's
okay."
               - from Paterson Literary Review

Born in Long Beach, California, Susan Browne has lived most of her life in the Bay Area. Her poetry has appeared in Ploughshares, Subtropics, River City, The Mississippi Review, Gargoyle, Margie, American Life in Poetry, Writer's Almanac, and other literary journals and anthologies, such as 180 More, Extraordinary Poems for Everyday, edited by Billy Collins. Her awards include prizes from the Chester H. Jones Foundation, the National Writer's Union, the Los Angeles Poetry Festival, and the River Styx International Poetry Contest. Her work was nominated for a Pushcart Award. Selected as the winner of The Four Way Books Prize by Edward Hirsch, her first book, Buddha's Dogs, was published in 2004. Her second book of poetry, Zephyr, was published in fall, 2010, winning the Editor's Prize at Steel Toe Books. She also has a word/music CD with poet Kim Addonizio, Swearing, Smoking, Drinking, & Kissing, available from cdbaby.com. Susan teaches at Diablo Valley College in Pleasant Hill, California, and private poetry workshops online. www.susanmariebrowne.com
The Nose on Your Face

In all your life, you will never see your actual face.
If you close one eye, you can gaze
at the side of your nose, but that's it.
Is that why when looking at group photographs,
it's yourself you stare at the longest?
Sometimes you're mistaken for someone else,
and you want to meet her, see for yourself yourself,
but even if you met a gang of doppelgangers,
you will continue searching in hubcaps, sauce pans,
toasters, the backs of spoons, the bases of lamps,
in sunglasses, in another person's eyes,
and if that person is standing in just the right light,
there you are, trying to get closer.
{ 0 comments }