A Book Release Reading for Miracle Shine by

Bob Stanley
Monday, May 27 at 7:30 PM
1719 25th Street
Host: Tim Kahl
Open Mic with bass and banjo — try out your poem in this unprecedented and edgy setting! Bring a poem, even if you usually don't !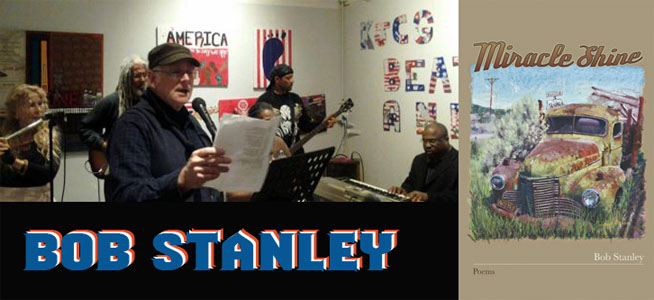 Bob Stanley was poet laureate of Sacramento from 2009 to 2012. He has published two chapbooks Eleven Blue Strings (little m press) and Walt Whitman Orders a Cheeseburger (Rattlesnake Press). He and his son John Stanley recorded and released a CD of original compositions entitled Songs from Random Lane. Critics have observed that as a poet he is highly influenced by Steve Martin and as a banjo player by Rilke and Eliot. Bob serves as President of the Sacramento Poetry Center, and he teaches English at California State University, Sacramento and Sacramento City College. Nis new poetry collection, Miracle Shine, was published by CW Books in May 2013. In his spare time he barbecues unlucky salmon and juggles kittens.
Roseville, CA

Was it roses instead of people that lived here
like Orangevale was oranges
and Citrus Heights – lemons maybe?
What could be more sweet?
Was it open fields of them?
Did God prune them back in January
and then watch them bloom from May to November the
way California's endless summer just lets them bloom – roses flaring
heedless toward the edge of winter?
Did folks coming in from the East detrain at Roseville station
and smell the fragrant perfume of the place?
Where mountain and valley meet?  Do they still?
Before there was a railroad, there was the land,
says the city website
mile after mile of waving grasslands.
Oaks of course, quercus lobata all down the slope,
poppies, lupine and lilies and alongside the streams'
shady banks the wild roses in their delicate pale shades.
So there were roses
and now there're roses on signs and roses in yards
and in the words
so the people are the flowers now
waiting for the train or the sign that reminds them of
who they are and what land they stand on
alongside the track by the old road they still gather
believing in roses, impossible roses.
{ 0 comments }