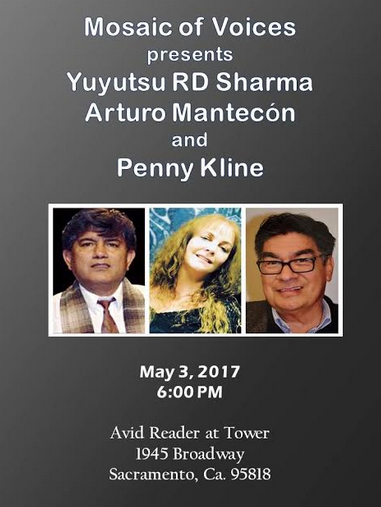 Yuyu Sharma is the recipient of fellowships and grants from The Rockefeller Foundation, Ireland
Literature Exchange, Trubar Foundation, Slovenia, The Institute for the Translation of Hebrew
Literature and The Foundation for the Production and Translation of Dutch Literature, Yuyutsu RD
Sharma is a distinguished poet and translator. Sharma has published nine poetry collections including, Milarepa's Bones, 33 New Poems, (Nirala,
New Delhi 2012), Nepal Trilogy, Photographs and Poetry on Annapurna, Everest, Helambu &
Langtang (www.Nepal-Trilogy.de, Epsilonmedia, Karlsruhe, 2010), a 900-page book with renowned
German photographer, Andreas Stimm, Space Cake, Amsterdam, & Other Poems from Europe and
America, (Howling Dog Press, Colorado, 2009) and Annapurna Poems, 2008, Reprint, 2012).
His works have appeared in Poetry Review, Chanrdrabhaga, Sodobnost, Amsterdam Weekly, Indian
Literature, Irish Pages, Delo, Modern Poetry in Translation, Exiled Ink, Iton77, Little Magazine, The
Telegraph, Indian Express and Asiaweek. Sharma was born at Nakodar, Punjab and educated at Baring Union Christian College, Batala and
later at Rajasthan University, Jaipur. Yuyutsu remained active in the literary circles of Rajasthan and
acted in plays by Shakespeare, Bertolt Brecht, Harold Pinter, and Edward Albee. Later he taught at
various campuses of Punjab University, and Tribhuwan University, Kathmandu.

Arturo Mantecón is a poet and translator. Born in Texas and raised in Michigan, he attended and
graduated from Ella Fitzgerald Elementary in Detroit with Stevie Wonder. His poetry has appeared in
La Ventana Abierta, Poetry Now and various anthologies. A collection of his short stories, Memories,
Cuentos Verídicos, y Otras Outright Lies, was published by En Casa in 2014. He has translated the
poetry and prose of the mad Spanish poeta maldito, Leopoldo María Panero. His most recent book,
published this year, is Chance Encounters and Waking Dreams. In it Mantecón translates the work
of Francisco Ferrer Lerín, perhaps the most important contemporary poet of the Iberian peninsula.

Penny Kline is the founding artistic director of Ovation Stage and is on the board of the Sacramento
Poetry Center. She is also an actor, a playwright and a poet. She was born in Sacramento and lived
in Santa Monica, California and New Haven, Connecticut. She has had her own plays produced and
has directed over 60 plays. You may have caught her reading poetry at Sacramento Poetry Center,
Luna's, Avid Reader, Davis and Shine. Her poetry has been translated for the 100 Thousand Poets
for Change inaugural World Conference she attended in Salerno, Italy in June 2015. Penny is
looking forward to the publication of her first full-length poetry book where she will launch it on a
European Tour of France, Germany, Czech Republic, Hungary, Kosovo, Macedonia, Greece and
Italy.