SPC Writers' Conference April 2017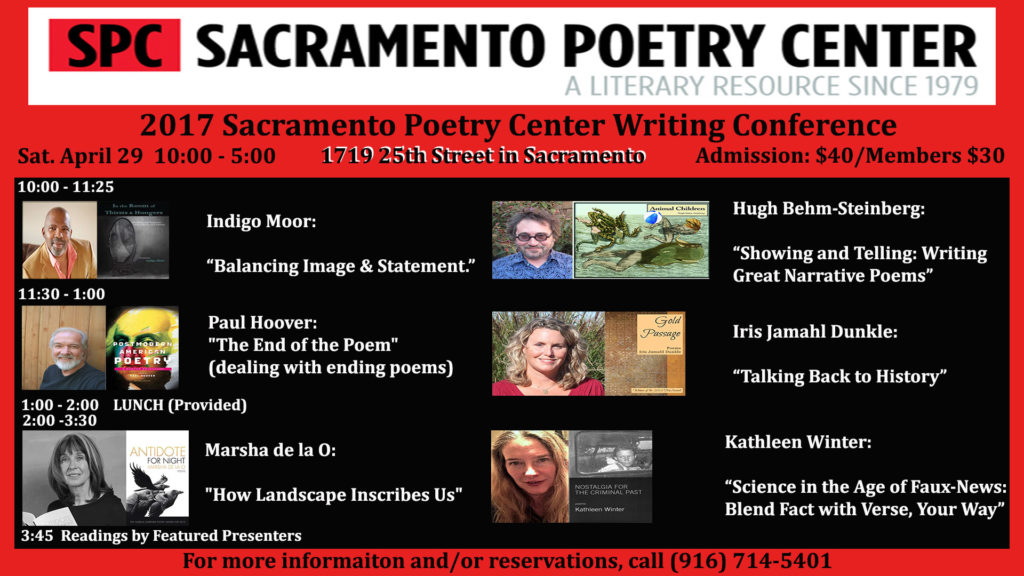 10:00
Indigo Moor: "Balancing Image & Statement."
How to make a poem flow, move in the intended ways of the author. Poems are too often bogged down with excessive imagery or rendered less than "artistic" by extensive exposition. The former creates poetry without anchors for the reader to grasp direction; the latter, poetry with no creativity. This interactive workshop will look at examples of contemporary poetry to enable each poet set elements and guidelines to balance his or her work. This workshop contains exercises.
Hugh Behm-Steinberg: "Showing and Telling: Writing Great Narrative Poems"
What often drives us to write poems are the stories and experiences we wish to tell or describe. But how does one go about writing narrative poems that also work as poems, and not just short stories with line breaks? We'll look at contemporary takes on narrative, discuss tools and techniques, and run through a quick exercise to jumpstart your next great narrative poem.
11:30
Paul Hoover: "The End of the Poem"
This workshop will deal the length of poems, from Japanese hokku to Imagism to the current practice of the serial poem, which creates long poems from a series of unfinished passages and fragments.  Poe claimed there is no such thing as a long poem.  Stevens wrote, "Poetry is that which suffices."  What is enough language to make a poem?  What is too much?  How much silence is necessary for the truth to emerge?  The instructor will provide copies of model poems and we will do some in-class writing.
Iris Jamahl Dunkle: "Talking Back to History" (following the tradition of Writing from Primary Sources in order to find Truth)
In this talk, Iris Jamahl Dunkle will talk about the tradition of talking back to history in poetry and her own process for writing poetry series from primary documents.  She'll begin by examining several important poetry sequences that revealed new truths by working with primary documents.  She'll also discuss her work unearthing the story of Pithole, PA, one of the first oil boomtowns in America that thrived and then burned to the ground just after the Civil War, and research in the Jack London Collection at the Huntington Library in Southern California for her most recent collection of poems, "Human Document".
1:00 Lunch
2:00
Marsha de la O: "How Landscape Inscribes Us"
This workshop is based on the intersection of the natural world and human psyche in poetry.
Kathleen Winter: "Science in the Age of Faux-News: Blend Fact with Verse, Your Way"
As the country confronts falsehoods and threats to our national institutions for arts and science, let's take a moment to explore how poetry engages with the facts and mysteries of science.  Fortunately, we don't have to be scientists in order to charge our poems with some of the power and wisdom of science.  How to do this is up to you, but we'll consider various ways contemporary poets are blending scientific fact or the weird wonderful history of science into their verse.  We'll look at some of the roles scientific knowledge and research play in poems, and how they may motivate our writing.
Bios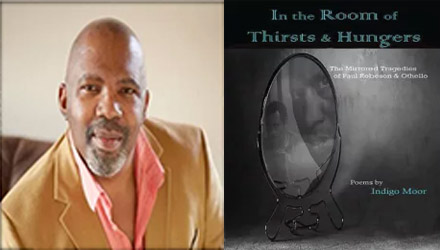 Indigo Moor is the current Poet Laureate of Sacramento, Indigo Moor is also a playwright and author. His second book of poetry, Through the Stonecutter's Window, won Northwestern University Press's Cave Canem prize. His first book, Tap-Root, was published as part of Main Street Rag's Editor's Select Poetry Series. Three of his short plays, Harvest, Shuffling, and The Red and Yellow Quartet debuted at the 60 Million Plus Theatre's Spring Playwright's festival. His full-length stageplay, Live! at the Excelsior, was a finalist for the Images Theatre Playwright Award and has been optioned for a full length film. Indigo is the resident artist as 916 ink and on the advisory board for the Sacramento Poetry Center. A graduate of the Stonecoast MFA Program—where he studied poetry, fiction, and scriptwriting—Indigo is a board member for the Mendocino Coast Writers Conference, a graduate member of the Artist's Residency Institute for Teaching Artists, and former Vice President of the Sacramento Poetry Center. Winner of the 2005 Vesle Fenstermaker Prize for Emerging Writers and the 2008 Jack Kerouac Poetry contest, a few of Indigo's other honors include: 2009 Pushcart Prize nominee, and finalist finishes for the T.S. Eliot Prize, Crab Orchard First Book Prize, Saturnalia First Book Award, Naomi Long Madgett Book Award, and WordWorks Prize.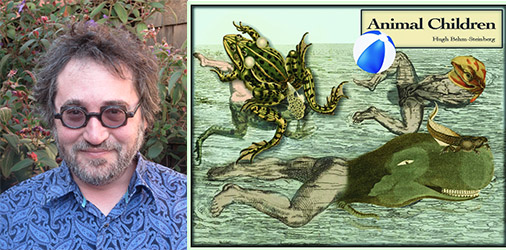 Hugh Behm-Steinberg is the author of Shy Green Fields (No Tell Books) and The Opposite of Work (JackLeg Press), as well as three Dusie chapbooks, Sorcery, Good Morning! and The Sound of Music. Recipient of Wallace Stegner and NEA Creative Writing Fellowships, his poems and stories have appeared in such places as Fence, Denver Quarterly, Kenyon Review and Gulf Coast. In 2015, his short story "Taylor Swift," won the Barthelme Prize for experimental short fiction. He's a member of the non-ranked faculty collective bargaining team at California College of the Arts in San Francisco, where he edits the journal Eleven Eleven.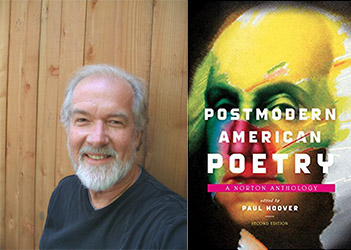 Paul Hoover has published fifteen books of poetry including Desolation:  Souvenir (2012), Sonnet 56 (2009), Edge and Fold (2006), and Poems in Spanish (Omnidawn, 2005).  With Maxine Chernoff, he has edited and translated Selected Poems of Friedrich Hölderlin (Omnidawn, 2008); with Nguyen Do the anthology Black Dog, Black Night:  Contemporary Vietnamese Poetry (2008).  His translation of two long poems by Mexican poet María Baranda will be published this spring by the British publisher Shearsman as Nightmare Running on a Meadow of Absolute Light.  Editor of the Norton anthology Postmodern American Poetry and the literary annual New American Writing, he teaches in the MFA program at San Francisco State University.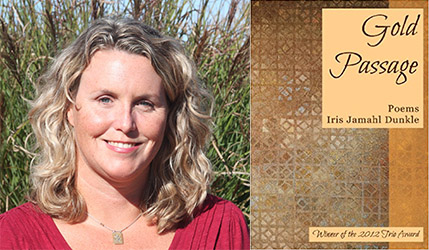 Iris Jamahl Dunkle is the current Poet Laureate of Sonoma County, CA.  Her latest book is There's a Ghost in this Machine of Air (2015). Her debut collection, Gold Passage, was selected by Ross Gay to win the 2012 Trio Award.  Her latest collection, Interrupted Geographies will be published by Trio House Press later this year.  Dunkle teaches at Napa Valley College and is on the staff of the Napa Valley Writers' Conference.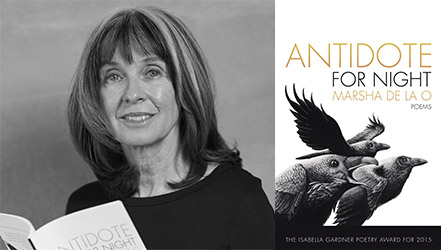 Marsha de la O's latest book, Antidote for Night, won the 2015 Isabella Gardner Award and was published by BOA Editions.  Her first book, Black Hope, was awarded the New Issues Press Poetry Prize and a Small Press Editors' Choice Award. Her work is anthologized in Wide Awake: Poets of Los Angeles and Beyond (Pacific Coast Poetry Series), as well as Intimate Nature: The Bond Between Women and Animals (Ballantine), Saying What Needs to Be Said (Solo Press), Bear Flag Republic: Prose Poems and Poetics from California (Greenhouse Review Press), and the poetry workshop handbook One for the Money: The Sentence as Poetic Form (Lynx House Press).   She was the recipient of the 2014 Morton Marcus Poetry Prize. De La O lives in Ventura, California, with her husband, poet and editor Phil Taggart. Together, they produce poetry readings and events in Ventura County and are also the editors and publishers of the literary journal Askew.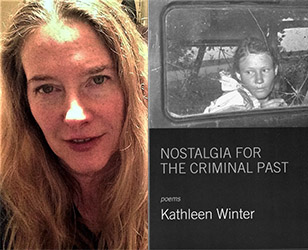 Kathleen Winter's new book, I will not kick my friends, won the 2017 Elixir Poetry Prize and is forthcoming in 2018.  Her collection Nostalgia for the Criminal Past won the 2013 Texas Institute of Letters first book award.  Her poems are forthcoming in AGNI, New Statesman, Yale Review, Prairie Schooner, Michigan Quarterly Review, Volt and 32 Poems.  She received residency fellowships from the Dobie Paisano Ranch, Austin; Dora Maar House, Provence; the James Merrill House; Cill Rialaig Retreat, Ireland; and Vermont Studio Center.  Winter received the 2014 Rochelle Ratner Memorial Award and the 2016 Poetry Society of America Emily Dickinson Award.  She teaches writing and literature at Napa Valley College.