Sacramento Poetry Center 2019 Writers' Conference – April 6, 9:30 am – 5:00 pm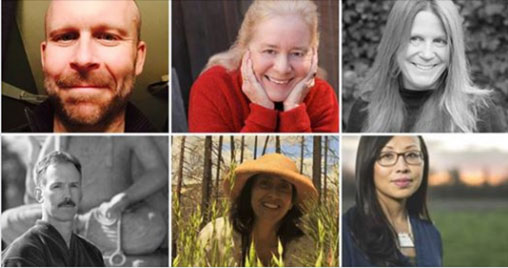 SPC 40th Anniversary Spring Conference
Saturday, April 6, 9:30 am – 5 pm
Our annual conference is a full day of workshops and readings with guests, local poets, and a chance to form connections with writers in the community. Lunch is provided as well as lite fair and coffee to start.
**All Of Our Amazing Conference Faculty and Local Authors Will Have Books For Sale!** Faculty & Featured Local Authors Will Sign Books at Their Respective Afternoon Readings
The Book Table is will be open for the duration of this event, open 9:30 am – 5:00 pm.
The Schedule Of Events
9:00 to 10:00
Registration; Coffee and Pastries ~ SPC Main Room
9:30 to 9:45
Conference Welcome ~ California Stage
10:00 to 11:15
Choose Your Workshop!
Mary Mackey Creativity: Finding Sources of Inspiration for Your Poems
OR
Maya Khosla Where We Begin After Fire
11:30 to 12:45
Choose Your Workshop!
Joshua McKinney Retweet, Reshare, Refrain: Form and the Conversations of Our Time
OR
Katie Peterson The Doll and The Breadcrumb: Poems from Stories and Stories in Poems
12:45 Lunch Provided!
1:30 pm
Hot Off The Press: Celebrating New Work from Local Authors, Presses and Magazines Reading and Book Signing in California Stage
Stuart Canton reads from his chapbook, A Field Guide for the Coming Extinction, published by Little M Press
River Rock Books Katie McCleary and Jan Haag present Seaworthy by Marie Reynolds
Levee Magazine shares new poetry, presented by Samantha Daniels and Eric Orosco
Random Lane Press presents Lawrence DinkinsWarrior Poet, his first full-length poetry collection
Join Lisa Dominguez Abraham in celebrating Coyote Logic, her first full-length poetry collection
2:30 to 3:45
Choose Your Workshop!
Brad Buchanan Writing as a Self-Healing Art
OR
Mai Der Vang Beauty Behind the Burden:Navigating Eras of Trauma Through Poetry
4:00 to 5:00
Faculty Reading, Book Signing and Conference Farewell in California Stage
Reserve your space
Get your here: TICKETS