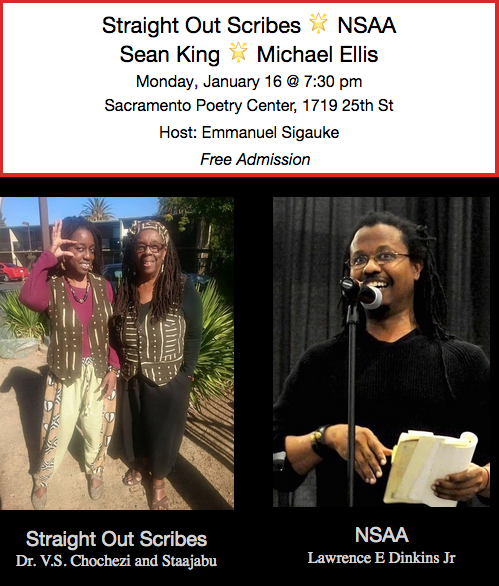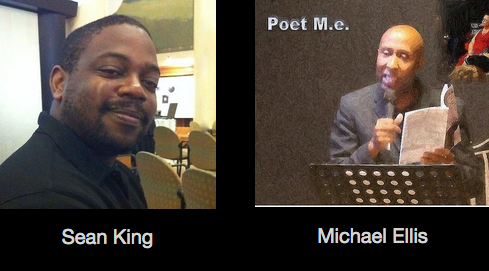 Straight Out Scribes, Dr. V.S. Chochezi and Staajabu, Sacramento's unique mother/daughter dynamic poetry duo is still in full effect as they enbrace the New Year. They will feature at the following Sacramento venues during the month of January. If you want to get the year off to an uplifting, inspiring, start come share some positive vibes with Straight Out Scribes
January 16, Sacramento Poetry Center, 1719 25th Street (25th & R) – Dr. MLK Jr. Program – 7 pm
January 19, Luna's Cafe, 1414 16th Street,- Joe Montoya's Poetry Unplugged hosted by Frank Andrick, 8 pm
January 28, "Ma Series" A space to support creative work by womxn: improvisers, composers, educators, and performing artists at Gold Lion Arts Collective, 2733 Riverside, Blvd., (Land Park) 7 pm – $10
Dr. V.S. Chochezi and Staajabu also known as Straight Out Scribes have published and performed their original poetry at numerous venues in California and nationally. They have published 7 books of poetry, one Sci-fi Anthology and two CD compilations. They have also produced and coordinated a number of poetry and art related programs in Sacramento since they settled here in 1991. Often referred to as activist poets, they have lent their voices to such causes as the Campaign to Save the Life of Mumia Abu-Jamal, freedom for the MOVE 9, Leonard Peltier, and other political prisoners. They have supported environmental causes, GLBT rights and are members of ZICA Creative Arts and Literary Guild of Sacramento -end-
Dr. V.S. Chochezi was born in Riverside, CA and raised in Camden, NJ. She earned a BA from Delaware State College, an MA from CSUS Sacramento and a doctorate in Education from Drexel University in Sacramento. She is a writer, poet, editor, photojournalist, publications specialist and college professor.
Staajabu was born in Philadelphia, raised in Camden, NJ. She is a writer, editor, producer, poet, health advocate, graphic artist, Air Force veteran, UC Davis retiree and serves on the Sacramento Housing and Redevelopment Commission.
NSAA (pronounced En-Sah-Ah), also known as Lawrence E Dinkins Jr,  is a poet and graphic artist living in Sacramento, California. His poetry and art mostly focus on the human condition from an African-American perspective. His activism is the promotion of art as a solution in-and-of-itself that can tackle many of the community ills, in other words, he sees himself as an art-advocate.
Sean King is a 43 year old Computer Engineer, Poet, Spoken Word Artist, Published Author, Youth Editor for Sacramento Newsletter, Mentor, Father, Husband, and active in conducting workshops and discussions ranging from Black Lives Matter to Hip-Hop to Job Interview Skills to Writing.
Sean has been writing and performing poetry for 22 years, has graced classrooms, auditoriums, stages, and even weddings all across the country. Sean has also published three books of poetry, made radio and TV appearances, and had his work featured in several other publications such as Sacramento voices. What Sean is most proud of is having the opportunity to touch lives in a positive way. At the end of the day, his only goal is use the talent he's been given to make humanity as a whole better.
M.e. Miller,  also known as  Michael Ellis, was professionally   published before he graduated from high school. His dialect poems, "Black  shoes" and "What Ya Stealin for?" were enough to  impress the University of  Puget Sound, where he majored in English and minored  in Journalism. Six  years later Ellis went from the page to the stage, performing  in more than  a hundred readings. He became an orator and a dramatist, teaching himself to perform in more than twenty unique voices. He used his ability more  often to help people who were victims of abuse and injustice. On stage  he  tells stories by combining prose and poetry, naming his style "Prosetry".
He is currently a teacher of writing at Sacramento State Prison and had taught at several public schools. He is the founder of KEYNOTE POETS which reaches thousands of people locally and around the world and the founder of a popular poetry venue here in Sacramento.
Compared often  to renaissance poet Langston Hughes, Ellis worked for years to expand his  skill set. He wanted to be more than a dialect poet. The  pressure of  historical comparison began to take a devastating toll. In 1996 Pulitzer prize winning poet, Gwendolyn Brooks, wrote him the first of four times.  She told him to calm down and that it would all make sense in time.
In 2006, he was invited on scholarship to Howard University for the first chapter  of a novel, Dear Oprah. He  performed at the Hurston- Wright annual convention. Months later he was also honored with a prize at Sacramento State University for  that same novel. He was also awarded a second prize for his children's short story, "The Legend of Sleepy." In 2012 M.e.  Miller  returned to the poetry scene after many years away. His book, Goodbye  Langston was published in 2013 and he followed with They Wouldn't Let Me Be White in 2015.