Michelle Bitting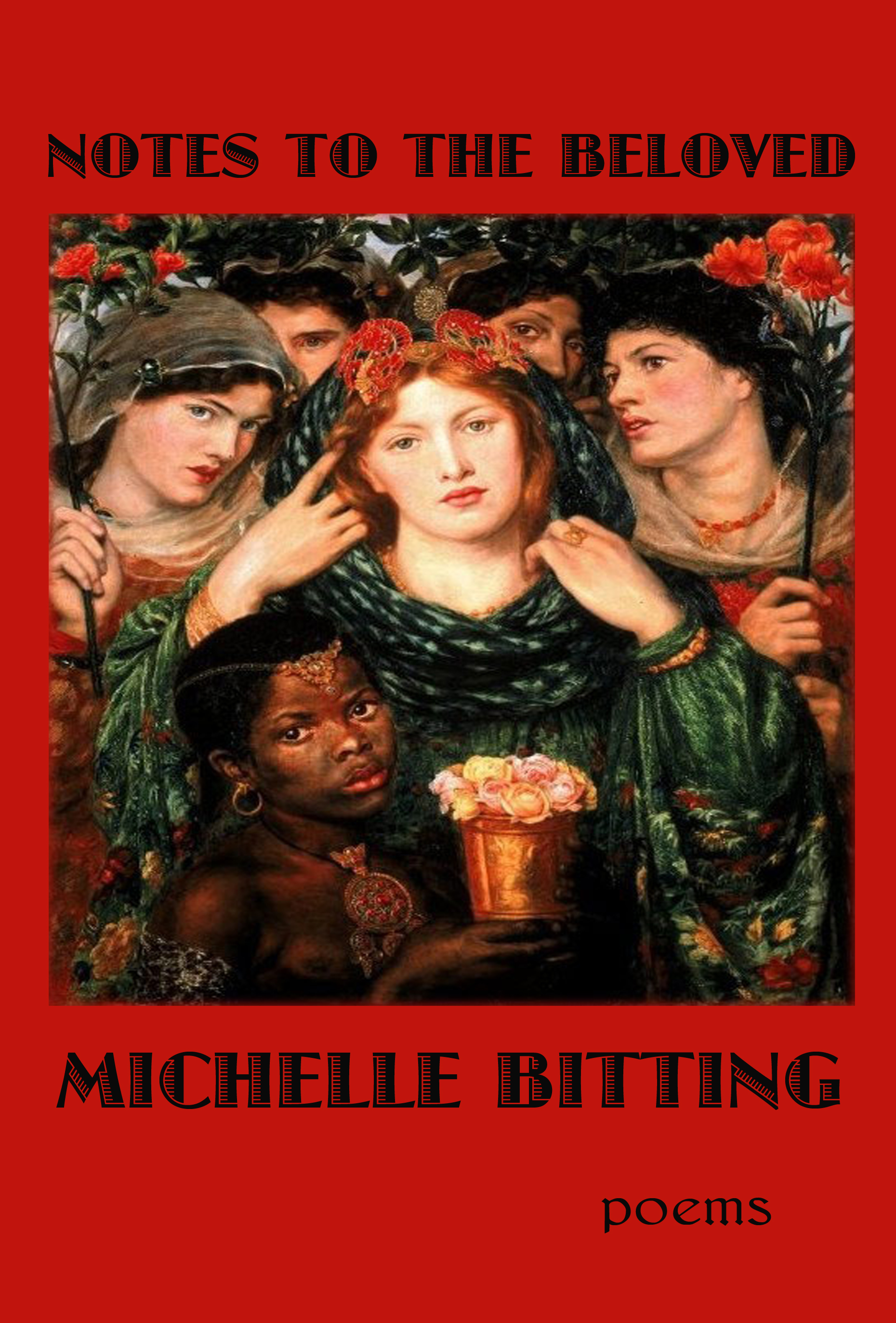 to order
Michelle Bitting's Notes to the Beloved is the 2011 Sacramento Poetry Center Press Book Manuscript Award winner.
Michelle Bitting was born and raised in Los Angeles, California.
A dancer and a chef, she studied theater at U.C.Berkeley and received
an M.F.A. from Pacific University, Oregon. In 2007, Thomas Lux chose
her manuscript Good Friday Kiss as the winner of the DeNovo First Book Award.
Her prize-winning poems have been published widely in numerous journals
including The American Poetry Review, Prairie Schooner and Narrative Magazine.
Poems have been reprinted on Poetry Daily and Verse Daily. Michelle teaches
in the U.C.L.A. Extension Writer's Program and as a California Poet in the Schools.
Notes to the Beloved won the 2011 Sacramento Poetry Center Book Award. 
Praise for Notes to the Beloved:
"Notes to the Beloved brims with the language of a fully lived life.
A powerful female voice, body, spirit and sensibility inhabits this book
and shakes it to the core. Bitting is at her best here: unbridled, open, aware."
~ Dorianne Laux, author of The Book of Men and Facts About the Moon

"Richly dense in both language and insight into the human heart, Michelle Bitting's Notes to the Beloved is a stunning collection of poems. As a fiction writer I am thrilled particularly by her voice, by the yearning of her poetic persona for a self, for a place in the universe, that yearning being the deeply beating heart of narrative as well. She is one of my favorite poets and this book will abide in me for a long, long time to come."
~ Robert Olen Butler, author of the Pulitzer Prize-winning A Good Scent from a Strange Mountain

"This amazing book will get inside you. Notes to the Beloved pulses with immediacy. The sensory language, the resolute momentum, a large and courageous heart–here is a rare, seductive wholeness. Michelle Bitting's poetry is at once personal and transcendent. What could be better?"
~ Marvin Bell, author of Vertigo and Mars Being Red

"The poems of Michelle Bitting's gorgeous new collection, Notes to the Beloved, feel like exquisite origami epistles that their recipients (and her readers) are asked to unfold the way the lovers of these poems have unfolded each other's bodies. These eloquent reflections on love both found and lost echo with desire, humor, and a fierce sense of continued hope, reminding us that torn valentines are sometimes the most beautiful."
~ David St. John, author of The Auroras and The Face
From Notes to the Beloved:
Sheriff

Because the night could sweat you like a bullet,
peel you out of its wrecked, heated flesh
and you'd appear, fresh from some town
where you claim to be mayor only
that word's not sharp enough, Sheriff,
we who strut our consonants hard
and a boy's so much better when he's packing,
black clad, silver chested, the tin star
beaming, its five points flashed
like peaks of trees
at sister planets, yes, from here
I can just see the light
wandering my broken boulevard,
dead center, high noon and loaded,
waiting for you to ride in
and make the bad dream squirm.
You can also order here:
Sacramento Poetry Center
1719 25th Street
Sacramento, CA 95816
ISBN-13: 978-0-9831362-3-1 
Reviews of Notes To The Beloved in Kirkus and Tin House
Some of the poems in this book have been made into poem-films by the author:

Notes to the Beloved Promo

In Praise of My Brother, The Painter

Boys Like You

The Call

On Any Day Like Alice

The Raised Shade of Morning on the Lower West Side