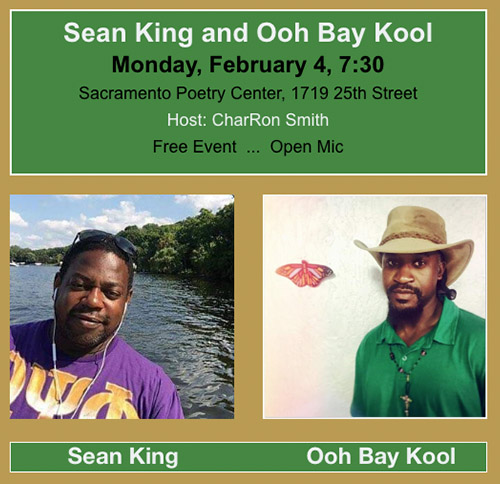 Sean King is a 45 year old Computer Engineer, Poet, Spoken Word Artist, Published Author, Mentor, Father, Husband, and member of the Sacramento community. Sean has been writing and performing poetry for 24 years, He has graced classrooms, auditoriums, stages, and even weddings all across the country. Sean has also published three books of poetry, made radio and TV appearances, and had his work featured in several other publications such as Sacramento Voices.   What Sean is most proud of is having the opportunity to touch lives in a positive way.  At the end of the day, his only goal is use the talent he's been given to make humanity as a whole better.

Do You See You Yet?
by Sean King
Think about
Breaking through every barrier and ceiling in your path
Shake away from every hand trying to hold you down
Rip out of the grasp of every negative idea stifling your growth
While stiff arming your past failures
Now go as high as you believe you can possibly go
…and then…
Keep going
Get rid of your clothes
Your earrings
Your jewelry
Get rid of all of your personal belongings that you're afraid to lose
Drop your baggage at the curb
Forget all of those dreadful memories that rear their ugly heads
Every time you start to reach for greatness
Bend your knees while standing on a Cumulus Cloud and jump right out of the galaxy
…and then…
Keep going
Throw away your doubt
Your fear
Your self-hate
Your lack of confidence
Your insecurity
Discard all of your mental inhibitions
Until Love is the only thing you have left
…and then…
Keep going
Start believing the impossible is possible
Start believing you are destined for great things
Start believing your dreams are not wishful thinking
But prophetic visions of realities yet to come
Use your love to propel you
Replace your hesitation with unwavering faith
Grab a hold of your destiny
…and then…
Keep going
Now,
Open your eyes and look
Do you see you yet?
OooH Bay Kool is libra, born in the year of the snake and is a Florida native singer songwriter blending trap, Southern Country, lyricism, rock and old folk storytelling into mind opening, heart moving, body shaking songs. #anewlife is his motivating model. His mind transmutes at higher levels of expression. After serving an 18 yr prison sentence, he returned home to pour out memories of life in a soul
stirring raspy voice. OooH Bay also performs weekly as a Spoken Word Artist at various venues in the Sacramento area such as Rhythm & Poetry, Lunas, Sol Collective, Old Soul and Classic Hippie Tea.
As Carl Robinson, (Oooh Bay) is the Founder and Manager of SoKuL Body Wear and is a hand-crafted jewelry designer. Ooh Bay is the treasurer for the Creative Alliance (Artist Club) and at Black Zebra Productions Inc, Music Dept officer (a non-profit organization that funds artists who need resources). He is also a member of the ARC Anti-Recidivism Coalition (a non-profit organization that assists in
reducing the prison population).OooH Bay is known to capture the essence of a culture and sing it into life with soul moving crooning and inspirational verse.

Bottom of a bottle
by Ooh Bay Kool
I was 12 and
convinced,
I knew better than Mom the believer Dad the breeder, alcoholic underachiever how can I play
without bleeding or releasing demons of past trauma to be beaten is an honor, I'd rather be
fondled in a honda by Kiesha to relieve her of inappropriate gases, Queefing and laughing,
fantasies of a bastard. the drunk often laugh and giggle and speak in riddles while
blowing clouds of smoke, mom's home alone her company the Bible and Hope,
I choke on the loneliness I must try this beverage refused by
reverends and elders alike I do what I like when this liquid is
in me fear vanish instantly dissolved by Hennessy remedy
hidden in Budweiser after Budweiser after Budweiser none
the wiser .commercial scams to make a boy feel the man
Instantly cornucopia variety inebriated sobriety this cup
means a lot to me Until its empty reflection seen

Repeat Hook:

I was young and wild and full of myself didn't know shit about love f n all these Girls. But
you find me at the bottom of the bottle if you're looking you can find me if you're passing
around a bottle if you're looking.

Second Verse:
The Proper Swill sends chills down her spine poles she would climb inches to shine the divine blessed her with memories she cannot escape so we relate and seek solace below. Her waist Buried to the hilt in guilt swallowing to feel nothing, puffing to feel something Inhale the stale
exhale the fresh The flesh revels in the. Fact that we are sinners beginners,
and who knows what she would do if she grew into a space and I couldn't replace the feeling
she give me it's the way a man is supposed to be weak morally I am not I I inherited it surely. I
am the child of ABC and Fox woody woodpecker, Betty Boo and Pepe Le Pew but this bottle
would ever swallow and chase away the enemy the enemy that I could not see I hated that
she wanted to so that would choose to lose and verbal abuse drinking weekends with who
knows who and then one day she will be gone and I will sing along

I was young and wild and full of myself didn't know shit about love, sex, and all
these Girls.
But you find me at the bottom of the bottle if you're looking you can find me if you're passingaround a bottle if you're looking.