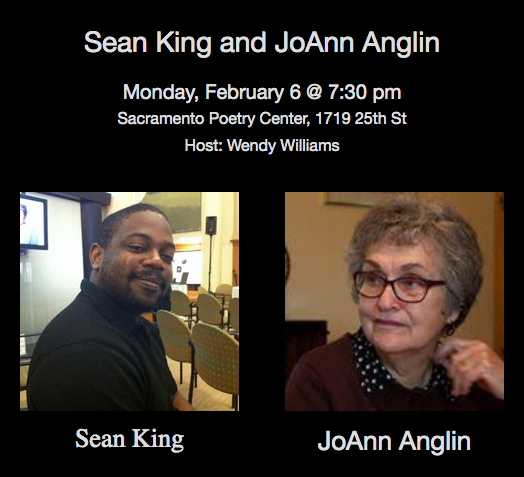 Sean King is a 43 year old Computer Engineer, Poet, Spoken Word
Artist, Published Author, Youth Editor for Sacramento Newsletter, Mentor,
Father, Husband, and active in conducting workshops and discussions ranging
from Black Lives Matter to Hip-Hop to Job Interview Skills to Writing.
He has been writing and performing poetry for 22 years, has graced
classrooms, auditoriums, stages, and even weddings all across the country.
Sean has also published three books of poetry, made radio and TV appearances,
and had his work featured in several other publications such as Sacramento
Voices. What Sean is most proud of is having the opportunity to touch lives in a
positive way. At the end of the day, his only goal is use the talent he's been
given to make humanity as a whole better.
Grief
We choose
defiance over grief
Moving forward
over slowing down to contemplate
Masking our pain
instead of facing it
Staying busy
rather than letting the hurt
grab ahold of us
We cover the holes in our heart so adeptly
that even those closest to us can only see the glimmer of light sneaking past the
mountains
of sadness eclipsing our light
On the outside
we feign the appearance of everything is fine
In truth
we are worn out
tired of overcoming
emotionally exhausted
decimated by loneliness
stuck in the middle of nowhere
screaming to the heavens
as we struggle to hang on
We find ourselves
looking to those that remain
to fill the gaps of those that are no longer here
only to be greeted by the harsh reality
that some holes are simply too big to fill
We lash out in frustration
and our cries go unanswered
We walk a path toward peace
on a narrow road nestled neatly
between anger and hurt,
there is no end in sight
We see light
and then turn a corner
that leads us back to darkness
We are hopeful
but this taxing journey
threatens to take away all that we love
In our heart
we know we will make it
In our mind
we are unsure of what our world
will look like when we do
Will our loved ones still be there?
Will the blissful joy ever come back?
Will the soul that emerges on the other side
resemble the soul that began the journey?
JoAnn Anglin  is a member of Los Escritores del Nuevo Sol (Writers of the New Sun), the Sacramento Poetry Center, and California Poets in the Schools. Her poetry chapbook, Words Like Knives, Like Feathers, was published by Rattlesnake Press. In 2012, she received District Arts Program awards from the Sacramento City Council and the Sacramento County Board of Supervisors. A featured reader at venues in Sacramento, the San Francisco Bay Area, Modesto, and Grass Valley, JoAnn currently coaches in the Poetry Out Loud program, teaches poetry writing at Folsom Prison, and has taught at Pioneer House Senior Residence, Shriners Children's Hospital and various after-school programs. Her poems have been published in Tule Review, Sacramento Voices, WTF, The Pagan Muse, The Acorn, The Sacramento News and Review, Los Angeles Review, Convergence, Ophidian, and Poetry of Resistance. She enjoys multi-disciplinary arts, such as seeing her poems in the Actors Theatre play, River City Anthology and the Cache Creek 'Restory' project.
That Particular Love
I wasn't that crazy about it once
I got it.  Like some kitchen appliance,
shiny versatile object of my
coveting, it seemed it could do
everything – soup, toast,  grilled
chicken, comfort – what I wanted
but didn't know it.