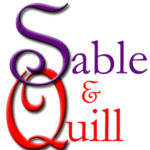 Sable & Quill: Reception January 14, 6-7:15 p.m.  Reading 7:30 p.m.
Location: Sacramento Poetry Center
Description: Join writers who are also visual artists for a reading of their literary works (poetry and prose) and an exhibit of their visual art at the eighth annual Sable & Quill. Participants are: Jennifer O'Neill Pickering, Bethanie Humphreys, Tim Mchargue, Wendy Williams, Laura Llano, Nikki Thompson, Jeanine Stevens, and Heather Judy.
Gabe Merriman and singer/songwriter Mike Pickering provide original music. The event is free, but donations are appreciated and support the Sacramento Poetry Center. The Sable and Quill art exhibit and reading is curated by Jennifer O'Neill Pickering and has showcased regional artists for the last eight years. In 2013 the Sable & Quill Anthology v. 1 was published, edited by Jennifer, with a grant from the Sacramento Metropolitan Arts Commission.
Start Date: 2017-01-14
Start Time: 6:00p.m.
End Date: 9:00p.m.