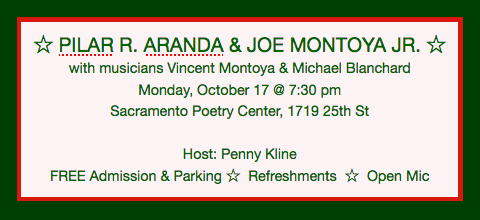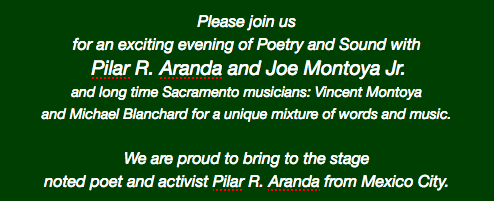 Pilar Rodríguez Aranda is a poet, video artist, and translator. She was born in Mexico City, but lived in California, Texas, and New Mexico, for a total of 13 years; currently she resides in Tijuana, BC. She has published in dozens of magazines and anthologies like Voices of Mexico, Poets in Nigeria, Mujeres de Maíz, Tribuno del Pueblo, Saguaro, The America's Review, Bilingual Review, DoveTales, Ruptures, and Voces sin fronteras, to mention a few. In 2012 she published her book of poetry, Asunto de mujeres (Story of Women), in 2014 Verdes Lazos, a poetry placket, and in 2016, her CD Diálogos de una Mujer Despierta, 12 poems set to original live music. Pilar has been part of several poetry conferences and festivals in Mexico, but also in Brasil, Ecuador, Italy, Cuba and Egypt; her work has been translated into English, Arabic, Greek, Italian, Portuguese and German. Her video work has received awards and has been shown in several festivals and museums in Europe and America. She is an ARTivist, a founding member of Colectiva Poéticas, active participant in the 100 Thousand Poets for Change movement, and member of the Writing for Peace Advisory Panel.
Joe Montoya Jr. is a Sacramento area poet and lyricist whose love of word construction began when he was a child. His greatest influence is his father, the late Jose Montoya. Jose's passion for art, music, poetry, and social justice lives on in Joe and the entire Montoya clan. Joe also found early inspiration in the lyrics of Jerry Garcia, Dylan, and Lennon and McCartney. In 1995 Joe founded the award winning poetry series "Poetry Unplugged" at Luna's Cafe, which has provided a welcoming stage to countless poets for 21 years. He has also been featured in numerous anthologies and journals and has been recognized for poetic service by the Sac. Metropolitan Arts Commission.  Joe balances his writing time with devotion to football, and his greatest joy is spending time with his wife, three children, and six grandchildren.
Luna's Cafe
Twenty-one years is not
such a long time time when
there's love to go around
and meanings to be found.
Poignant moments stretch
to forthcoming years, the stage
presents a home we share
where life is to become only
the keeper of our time.
Evenings you can't erase
are precious properties hotly
dressed as poetry through
the floors up to the sky for
people we love the best
breathing their own breath,
over and over, then again.
Joe Montoya, Jr.
2016