Phillip Larrea and Karin Erickson
Monday July 29, 2013 at 7:30 PM
1719 25th Street at SPC
Host: Tim Kahl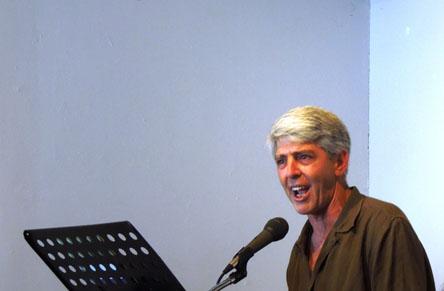 In the fantasy world of investment/personal finance, Phillip Larrea provides tips on earning bonus points and slaying the trolls on the bridges. In real life, Phillip writes poems and essays about this fantasy world. Phillip has been published in two dozen journals so far in 2013. His favorite credits include Rolling Thunder because it came with really good pictures… really good pictures, and Le Monde N'est Pas Rond, because it sounds so French. Phillip is the author of Our Patch from Writing Knights Press, and We the People, Cold River Press.
Elegy for Eliot

Who will embrace this orphan, Eliot?
He wanders certain half-deserted streets,
His nose pressed against the fogged window pane,
On the inside looking out. Longing to
Walk among the bustling half-dead throngs
Commuting from Michelangelo there,
Crossing Renoir's bridge to Dada End.
On this bitter April Thursday morning,
He scatters remains of last night's ashes,
Tucks his practical cat in his rucksack,
Hopes to fall in with pilgrims' progress
In peace to Buddha's shrine, without a prayer.
His cross to bear- he does not understand.
Doubting Thomas shakes frost off his shoulders,
Wishing to crawl back into the Blessed
Mother Mary's virgin womb. But she who
Comforts each to each, will not comfort him.
He grows old- cast to the side of the road.
Hollowed out by every pound of flesh
Exacted by critics' ragged claws which
Damn him with faint praise, assent with a leer.
Re-baptized in the water faith, he dies.
Gasping  the last air not yet consumed by fire.
A bit of earth marks his passing this way
With all that there really is left to say:
T.S. Eliot begins and ends.
Here, like a struck match, he begins again.

(from, We the People)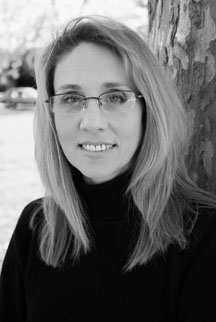 Karin Erickson is a freelance writer and editor from Sacramento who also facilitates creative writing workshops through the Davis Art Center.  Her poetry, creative nonfiction and short stories have appeared in many Sacramento and Bay Area literary publications, including The Walrus, Tule Review, Rattlesnake Press's WTF and Soul of the Narrator.
Disintegration

Last night I dreamt of light behind clouds in a night sky.
Through electricity of atmosphere, a plane—wings stretched to opposite horizons, plummeted to earth—into the belly of a darkened, slumbering city.
An ocean of fire boiled outward like tsunami waves to swallow the world and all the souls in it. It is only in the light of this destruction that I discovered you standing beside me.
In the moment of our burning, I am flung back to the darkness of our room, where I lie with heart outpacing the clock's slow seconds.  I listen through the hiss of that strained quiet to hear you whisper my name—the sound is crumbling embers—and I'd rather you had not awakened me.