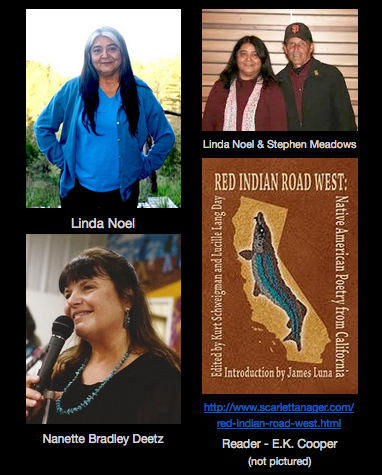 Linda Noel is of Koyoonk'auwi (Concow) descent and grew up in Mendocino County. She is Poet Laureate Emeritus of Ukiah, CA. Her work has been included in many anthologies and she has a chapbook titled Where You First Saw the Eyes of Coyote. She resides in Mendocino County.
Winter Within
Winter glimmers before me
Lonely
Shoulder down
Hip angled
I am part my grandpa who waited
For first snow fall before leaving
Willow Creek
Part my mother who helped push
Her father's car
From snow-covered red dirt ditches
Part my grandma living snowbound
In pine country
Part my father who walked the miles
To town
Sledding food back to grandma's cabin
Winter draws its shawl about us
Salmon's fall run has faded
Acorns have dropped
And mushrooms have found light
I look into winter and know that
No frost can freeze the spirit
No thousand winters of ice
Could extinguish the flaming
Heart of
My people
E.K. Cooper is a 57-year-old Pomo from the Round Valley Indian Reservation in Northern California. At the lowest time in his life, he found his voice via the written word. It is in its infancy, but his voice grows every day.
Pomo Shuffle
It starts for some of us Pomo men,
In our Autumn time, about our mid 50's.
Our stride that is called,
"Why are you in such a hurry?"
Slows down to a walk.
We are rewarded,
With people asking us to take walks with them.
But then our walk slows.
Our feet move a little quicker,
But our steps are smaller,
And we start doing the Pomo Shuffle.
Pomo men give up our stride and our walk,
But in return we become great Pow Wow dancers.
Who knew that all we are doing,
Is shuffling along…
Stephen Meadows is a Californian of pioneer and Ohlone descent. He has earned degrees from UC Santa Cruz and San Francisco State University. His poems have appeared in anthologies and journals nationwide, and one of them graces a bronze plaque in San Francisco. He has devoted much of his life to poetry, in an attempt to honor his ancestors and the beauty of the natural world. He is a twenty-year veteran of public radio, where he has interviewed scores of musicians and visionaries from the British Isles to North America. He has done all kinds of work to keep the poems coming and once, long ago, was even a West Point cadet. Stephen now resides with his family in the foothills of the Sierra Nevada. His poetry collection, Releasing the Days, was published by Heyday.
WATERHOLE
A reedy place
full of grasses
and tules
fronded
toad colored
by the bay's
curved edge
ancestors
accustomed to moist
pliant ground
came down
the long swale
for their water
a day at a time
stepping soft
in the wet mud
knowing
they would slip
just a little
Nanette Bradley Deetz (Dakota/Lakota/Cherokee/German) holds a BA and an MA from UCLA in Theater Arts/Dance, and a second MA in Counseling Psychology. She is the co-coordinator and host of Alameda Island Poets reading series. Her poetry has been published in Alameda Island Theme Poems (California Federation of Chaparral Poets, 2006); Peanut Butter Jamboree, 2002-2007 (Mary Rudge, 2007); Turtle Island to Abya Yala: A Love Anthology of Art and Poetry by Native American and Latina Women (Malinalli Press, 2011); and Turning A Train of Thought Upside Down (Scarlet Tanager Books, 2012). She is a journalist for Indian Country Today, Native News Online and the Alameda Journal.
CROW DANCE
Black crow sits on a pine tree,
white clouds against an azure sky.
North wind whispers her secrets
as crow listens
from the top of the Earth.
We watch each other
from different galaxies,
circles intersecting circles,
as the waters of the San Francisco Bay
flow around us.
Crow begins his dance
as squirrel appears
from behind the pine tree.
Butterfly and dragonfly watch,
as our galaxies intersect
for one moment,
under a pine tree by the Bay,
dancing
from the top of the Earth.