Friends of the Sacramento Poetry Center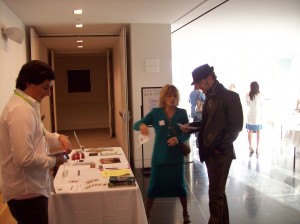 SPC Volunteers at the Crocker Art Museum
ABOUT THIS GROUP:  The Friends of the Sacramento Poetry Center is a group of volunteers who assist the Center with everything from publicity to writing articles to hosting events.  Please share your ideas and let us know your talents/expertise by sending an email to spc@jps.net.
ONGOING VOLUNTEER NEEDS:
We always need help with:  advertising events, contests and publications; writing articles, interviews and essays for our website and Poetry Now; mailing/distribution of Tule Review/Poetry Now; taking photos and creating artwork for our website and publications; helping with events–PR, setup, hosting, entertaining out-of-town guests, bringing refreshments; organizing our space/files/materials/poetry library/archives; building maintenance–we are currently looking for someone to fix/cover our ceiling; judging of contests and publications; creating flyers/posters/broadsides for our events; outreach to K-12; soliciting new members; hosting SPC info tables at events; monthly art shows–recruiting new artists, hanging and taking down artwork, PR; assisting with special events such as our yearly poetry conference in April and the Race for the Arts in August; grant writing and what else (your ideas here).
Please peruse the following list and see if there is anything you would like to help with:
Archives
Art Shows
Building Maintenance
Contests
Distribution
Fairs
Grant Writing
Graphic Design/Art
Judging of poems for our publications
K-12 Outreach
Library
Mailing — Tule/PN
Membership recruiting
Organizing/Cleaning
Prison Outreach
Photography
Publicity
Readings
Social Media
Special Events
Videotaping
Website
Writing