Lucy Corin, David Semonchik, and Jay Passer
Monday, February 27, 2012 at 7:30 PM
1719 25th Street at SPC
Host: Tim Kahl

Lucy Corin is the author of the short story collection The Entire Predicament (Tin House Books) and the novel Everyday Psychokillers:  A History for Girls (FC2). Stories have appeared in American Short Fiction, Conjunctions, Ploughshares, Tin House Magazine, New Stories From the South:  The Year's Best and a lot of other places.  She's been a fellow at Breadloaf and Sewanee, and a resident at Yaddo and the Radar Lab. She's currently working on a book of a hundred very small apocalypses and a novel about the brain. She's an Associate Professor at University of California, Davis where she teaches in the English Department and Creative Writing Program.

WITCHES

Three girls, maybe eight each, stand with sticks at a pothole of water. They're leaning, or stirring. It's hard to tell, because they're frozen, although it's summer. They're looking into the water together, with their sticks. Dim oils sketch the surface like lines from skating. One girl, the one in the middle, from this angle, anyway, has a piece of grass between her teeth, and she's grimacing. The end of the grass has fluffy seeds, and normally, it'd be bobbing. There's breeze, yet all is still. In this apocalypse, the air, it seems, can move, though nothing in it can. Where do you draw the line? Even seeds that could drift like smoke stick. There's no logic in it. Especially with pages accumulating, time continuing to pass. The girl on the supposed left is turning to dust as we speak, but invisibly, like a figure made of icing going stale. Touch her and poof.
I know what they were doing. The girls were playing "three witches." They were making magic. They were poking their stew. They kept meaning to get on with their game. They'd planned to capture someone, and they'd planned to turn a bunch of things into other things. But after a while the entire plot had been taken over by recipes for potions. Then, of all things, this is what happened.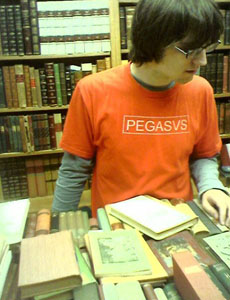 David Semonchik is originally from Batavia, IL. He received his B.A. in Creative Writing and Spanish from Knox College in Galesburg, IL, and is currently a graduate student in the Creative Writing program at UC Davis.

Tell them what we've found

For the first time in years
the attic door comes unstuck and it's all
hamburgers, wrapped in yellow paper
an endless cascade, a soft warm hail
piling around our feet with the faint smell
of insulation. We unwrap two
and they're delicious, a freshly-made mouthfeel,
the perfect amount of grease. It's as if we're standing
under the most wonderful slot machine in the world,
our palms open,
buffeted by riches. How like grace, so unexpectedly
specific, a narrow boon satisfying this quiet wish
we've always had but could never articulate.
Call your friends, love. Call mine.
— David Semonchik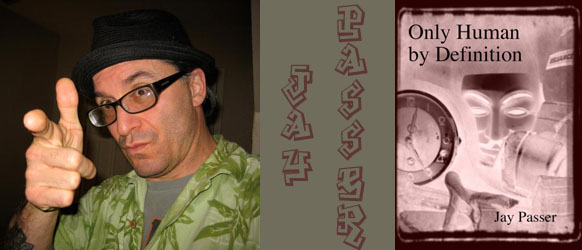 Jay Passer was born in San Francisco, extensively traveled the States like a restless dog before settling in Seattle WA at the age of 24. His experience has culled upon a varied landscape of labor industry employ, including (without embracing) warehouseman,  delivery driver, house painter, pizza cook, news butcher, barista, picture framer, furniture repairman, soda jerk. Jailed twice in King County for driving without hands or eyeglasses. Returned to San Francisco, as written in Proverbs, 'like a dog to its own vomit'. Can be seen on occasion at Vesuvio's on Columbus, upstairs. His recent work appears in 3am Magazine, Haggard & Halloo, Red Fez, Poetry Super Highway, Clockwise Cat, Really Earnest, Horror Sleaze Trash, Asphodel Madness 2.0, Full of Crow, Pigeonbike, Gutter Eloquence, and Caliban. He is currently at work composing tanka cycles on his cell phone and recording and translating the 'petits-cris' of roaches from within the walls of his apartment.
THE CONSPIRACY OF MOTHERS

bound for the Tropicana
dropped off on Mercury
tequila in an open wound
path of the erupted volcano
smear of marmalade in microwave
gurgle from garbage disposal
Mexican bullfight on the History Channel
restructuring of atomic code
ducks in the swimming pool
home team losing on Opening Day
cell phone out of juice
luckily for a bunch of flowers
there's you.  


— Jay Passer