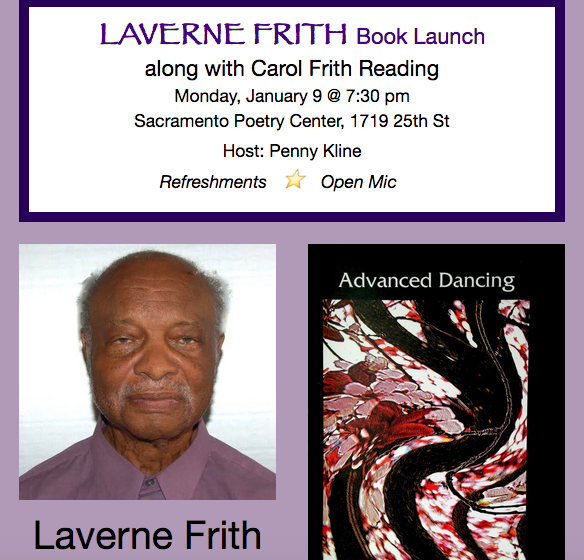 Laverne Frith is a regular member of the Reviewer Panel of the New York Journal of Books and Co-editor and founder of Ekphrasis: A Poetry Journal, which features poetry about works of art. Ekphrasis just celebrated its twentieth year of publication. In addition, Laverne was, for nineteen years, a monthly poetry columnist for the widely circulated Living in the West/Senior Magazine. His published poetry chapbooks include four from Finishing Line Press (two nominated for the California Book Awards) plus a unique chapbook, Celebrations: Images and Texts (Rattlesnake Press, 2009), featuring Frith's photography as well as his poetry. He has two previous full-length poetry collections, Imagining the Self (Cherry Grove Collections, 2011) and The Evaporating Hours, which was released in 2015 by AuthorsPress. Featured recently on Verse Daily, his poetry has appeared in The Christian Science Monitor, The Sow's Ear Poetry Review, LouisianaLiterature, The Dalhousie Review, Phenomenal Literature, Maryland Poetry Review, Permafrost, and numerous other publications. Nominated for the Pushcart Prize, he has extensive poetry honors and awards. Laverne was a participating author at the Sacramento Public Library Foundation's Authors on the Move! 2016. For more information, visit www.lavernefrith.com.
GOLD SEAL BOOK AWARD:
Advanced Dancing, published in 2016 by AuthorsPress India, was awarded Artists Embassy
International's Gold Seal Book Award. Laverne was presented with the award September 17,
2016, at the Florence Gould Theater at the Palace of the Legion of Honor Museum, San Francisco, CA.
Cover Notes on Advanced Dancing by Laverne Frith:
Advanced Dancing presents the world as stage: the source for the myriad performances of a lifetime, with all the nuance and reality of becomings, of acting out, of the rhythmic realities of life, of the nature of things animate and inanimate, commingled, brought into critical focus, set in motion toward a resolution we might be inclined to regard as climax, as closure. Such dancing contains, as one might imagine, multiple contexts and circumstances, a plenitude for the miracle of memory to embrace. This is a volume laced with exuberances, those of nature as well as those of the human heart, dances configuring a range of hopes for the future. Scattered throughout are poems of recurring retrospective: patterns that have unlocked the rhythms of progress, choreographing action and thought, past and present, patterns of passion and of art.
Something I Left With
I left home with something to invent:
stories, stories, stories, or some explanation
of what I substituted for a life all those years.
Some will tell you that it was full of rich
things: learning right from wrong, learning
the textures of the world, things filled
with forming. But I left with only me,
the residue of all that had gone before.
The next thing I learned: I had almost
insufficient weight to join the army. Imagine
that, not enough substance to serve. Then
test scores gave me a waiver. There had to be
something Yankee about that, something even
an enemy would understand.
Laverne Frith

A City in the Heat
Because the past is closing in. Because
I don't look back, but hurry down the street.
No shade, no plane trees. That's the way it was,
or is, because it's summer in the heat.
Because the time's so very long ago,
because it's now. Of course the time is now.
Because you'll pass me on the left, just so,
the way you passed me then, and that is how
I'll know it's summer in the heat. And you
will smile the enigmatic way you smile.
Because you must, to make this story true.
Because I do not pause, though all the while
I hear you call from every side-street shop.
Because you turn. Because I cannot stop.
Carol Frith