Julia Levine and Jane Mead
Monday May 26 at 7:30 PM
1719 25th Street
Host: Tim Kahl

Julia B. Levine has won numerous awards for her work, including the 2003 Tampa Review Prize , the 1998 Anhinga Poetry Prize and bronze medal from Foreword magazine, and a Discovery/The Nation award.  Her fourth poetry collection, Small Disasters Seen in Sunlight (2014), inaugurates a new poetry series for Louisiana State University Press.  She has work appearing in several new anthologies, including The Places That Inhabit Us, The Autumn House Anthology of Contemporary American Poetry, and The Bloomsbury Anthology of Contemporary Jewish American Poetry. She received a PhD in clinical psychology from UC Berkeley, and lives and works in Davis, California.

After Visiting Your Mother, We Drive to the Rifle Range

Oiled and easily cocked, this gun is loved.
The shells gold as a bright forgetting,
the forest silent with snow.
Who is out there?, your mother had asked,
pointing to an orderly.
I hold the rifle up to my shoulder.
Squint through the sightline.
Same shoulder where your mother
laid her head and sobbed.  Sad sad,
she said, then listed forwardand slept.
Dismantle me, the body says.  Or the mind.
The trees undressed of leaves
like a kind of stoneagainst stone.
The being of us, hitchedone to another,
before the discharge, the dark bits
sparked and afflicted.   Inthe white fields,
someone hadlined up clay pots
against the fresh nothing of beauty.
We would take turns. Going
first one, then another.
(First published in The Southern Review, Autumn, 2012)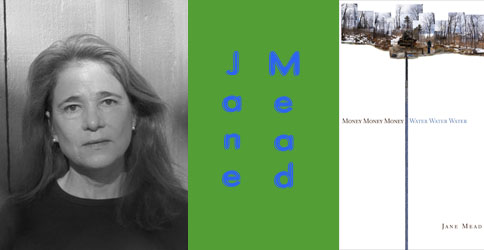 Jane Mead received her BA in Economics from Vassar College and earned an MA and an MFA from Syracuse University and the University of Iowa, respectively. She is the author of three previous collections of poetry, most recently The Usable Field, from Alice James Books. Her poems have been published widely in anthologies and journals and she is the recipient of grants and awards from the Whiting, Guggenheim and Lannan Foundations. For many years Poet-in-Residence at Wake Forest University, she now manages the ranch her grandfather purchased in the early 1900's in Napa Valley, where she grows zinfandel and cabernet wine-grapes. She teaches in the Drew University low-residency MFA program in Poetry and Poetry in Translation.

Money

Someone had the idea of getting more water
released beneath the Don Pedro Dam
into the once-green Tuolumne, —
so the minnows could have some wiggle room,
so the salmon could lunge far enough up
to spawn, so that there would be more salmon
in the more water below the dam.
But it wasn't possible—by then the water
didn't belong to the salmon anymore, by then
the water didn't even belong to the river.
The water didn't belong to the water.