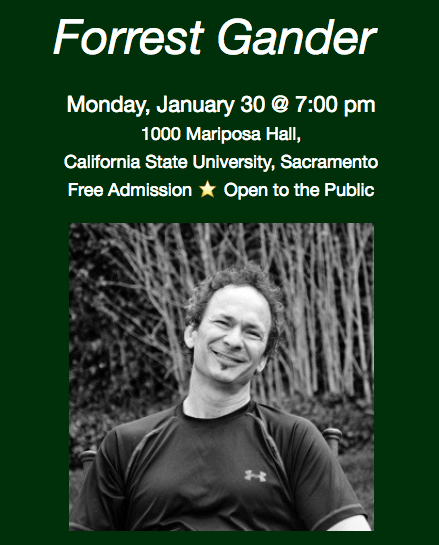 Born in the Mojave Desert in Barstow, California, Forrest Gander grew up in Virginia and spent significant years in San Francisco, where he met the poet CD Wright. They lived in Dolores Hidalgo (Mexico) and in Eureka Springs, Arkansas before moving to Rhode Island. Gander holds degrees in both English literature and geology. The Trace, his second novel–about a couple whose car breaks down in the middle of the Mexican desert– was published in November 2014.
Concerned with the way we are revised and translated in encounters with the foreign, his book Core Samples from the World was a finalist for the Pulitzer Prize and the National Book Critics Circle Award.
The author of numerous other books of poetry, including Redstart: An Ecological Poetics and Science & Steepleflower, Gander also writes novels (As a Friend; The Trace), essays (A Faithful Existence) and translates. His most recent translations are Alice Iris Red Horse: Poems of Gozo Yoshimasu, Then Come Back: the Lost Neruda Poems and Fungus Skull Eye Wing: Selected Poems of Alfonso D'Aquino; Spectacle & Pigsty by Kiwao Nomura (winner of Best Translated Book Award); and Firefly Under the Tongue: Selected Poems of Coral Bracho (Finalist, PEN Translation Prize). His most recent anthologies are Pinholes in the Night: Essential Poems from Latin American (selected by Raúl Zurita) and Panic Cure: Poems from Spain for the 21st Century.