Cynthia Atkins, Geoffrey Nutter,
and Stephanie Brown
Monday, July 22 at 7:30 PM
1719 25th Street at Sacramento Poetry Center
Host: Tim Kahl
Refreshments Available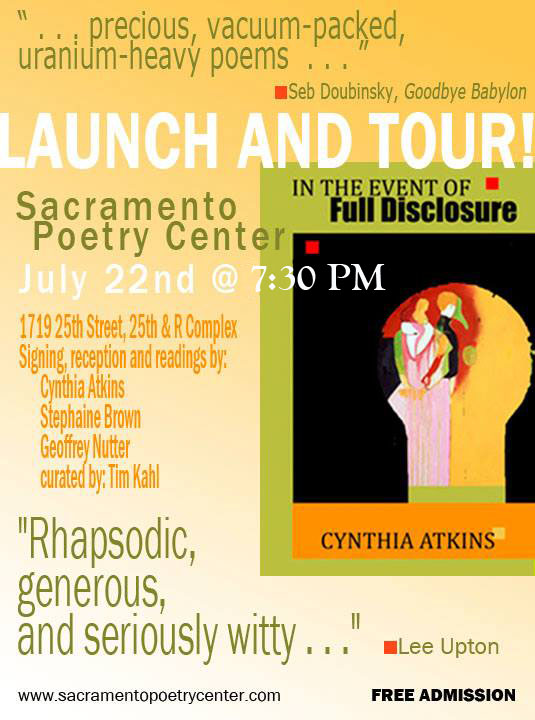 Cynthia Atkins was born and raised in Chicago, IL, receiving a BFA and an MA from the University of Illinois and an MFA from Columbia University's School of the Arts. Atkins is also the author of Psyche's Weathers (CW Books, 2007). Her poems have appeared in numerous journals, including, Alaska Quarterly Review, American Letters & Commentary, BOMB, Del Sol Review, Florida Review, Harpur Palate, The Journal, North American Review, Seneca Review, Tampa Review, Valparaiso Review and Verse Daily, among others. Atkins' poems were nominated for a 2011 and 2012 Pushcart Prize. Formerly, Atkins worked as Assistant Director for the Poetry Society of America. She has taught English and Creative Writing at various colleges and is currently Assistant Professor of
English at Virginia Western Community College. She was founder and artistic director of Writers @ Jordan House/FAIR (reading series and workshops). She lives on the Maury River of Rockbridge County, VA with her husband, artist Phillip Welch, and their family
LITURGY

Because the trees grew
into paper for words to write
down what there are no words for.
Because it wants to size you up
and then compels you to confess.
Because it likes to breathe up
against you on the couch,
but will never commit to meals
or absolutes. Because it has no
understanding and no excuse,
and it dares the understudy
not to show up. Because you need
to get out of the weather, where
too many secrets are revealed
in the rain. Because it knows
you need to explain, even when
your hands are clean.
Because it told you
to spit out your gum
when a taxicab is running.
So many years have proven
that each death leads to song.
Because it knows the flowers
will be of no use—the words will dream
up the phlox.  Because it will always
want and want to name what can't be named.
Because it knows you say one thing
and mean another.   It knows you know better.
It is the greed inside your prayer.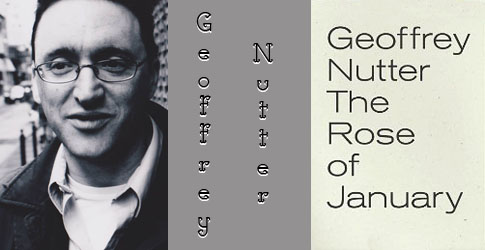 Originally from Sacramento, California, Geoffrey Nutter lives in New York. He has taught poetry at NYU, Columbia, The New School, and the University of Iowa. His books are A Summer Evening (Center for Literary Publishing, 2001)[winner of 2001 Colorado Prize for Poetry], Water's Leaves & Other Poems (Wave, 2005), Christopher Sunset (Wave, 2010), and most recently The Rose of January (Wave, 2013).
Famous Androids

The Flute Player by M. Vaucanson
is one. The Chess player by Kempelen
is also celebrated, that clockwork
visitant that stunned the Sun King's court.
There was the miniature reaper
who swung his scythe in the field
beneath a walnut shell, and then
the Lightning Concubine, ablaze
with jewels and beauty, a mechanical
cat purring in her lap. It is
the Age of Enlightenment. In the aspen grove
where the wild strawberries grow, Mr. Pope,
like a bundle of nerves in the gentle rain,
blushing in the penitential waters of the sun shower,
the ball-joint doll in petticoats is sitting
on a lichen-covered boulder. And on
the leafy ground where white-capped mushrooms
like small bells are growing all around
a brass alarm clock is ticking. New friends
come for angel visits, fireworks explode
above the reservoir and brilliant ferns
hang their bunting over crumbled fountains,
the girls are dressed like peasant girls
for lunar new year, the Day of Good Intentions
and the chiming of the Clock Symphony
violet on brick housefronts and green shutters,
a mechanical rose opens on a gold-trimmed flag
spread across a marble-topped sarcophagus.
What time is it in the forest?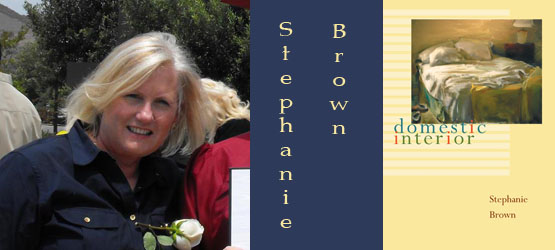 Stephanie Brown is the author of two books of poetry, Allegory of the Supermarket, published by the University of Georgia Press in 1999 and Domestic Interior, published by the University of Pittsburgh Press in 2008.  She was awarded an NEA Fellowship in Poetry in 2001 and a Bread Loaf fellowship in 2009.  Her work has been published in American Poetry Review (including two covers, in 1996 and 2005), Ploughshares, Slope, Pool, LIT, ZYZZYVA, Green Mountains Review, Swink, and other journals and has been selected for five editions of The Best American Poetry annual anthology.  Her poetry and essays were anthologized in American Poetry: The Next Generation, Great American Prose Poems: From Poe to the Present, and The Grand Permission: New Writing about Motherhood and Poetics, among others. From 2004-2010 she curated the Casa Romantica Reading Series in San Clemente, California, which brought nationally and internationally known poets and fiction writers to read to a community audience.  She is currently the poetry editor for Zócalo Public Square and book review editor for Connotation Press: An Online Artifact. She has taught creative writing at the University of California, Irvine and at the University of Redlands but has primarily made her living as a public librarian and library manager. She is a regional branch manager for OC Public Libraries and lives in San Clemente.
MITTELSCHMERZ by Stephanie Brown
I feel the possibility.
A pinch, a tiny bite under the hip bone
A little pain, not really painful, a little thrust more like.
My breasts are filling but that's imaginary.
What was once a battle, soon will leave me.
I will be done that way.
Soon possibility will leave me.
There should have been more children.
I should have had a house full of them.
I breastfed a tiny baby girl in my dreams
Even though I'm too old to be her mother.
It  is a happy dream. I love her.
Born with all the eggs you'll ever have and each month the feel of them releasing
Until it's too late.
I wish I had more time to create.
But I don't. I don't. That's final. That's life.
What will it be like: to have no more possibilities?
To see the world turn blurred, to go silent, to leave it, to die.
I hope to have a granddaughter and I will think about that more often.
I hope to have a grandson.
Possibility becomes a grandchild.