Cassandra Dallett, SB Stokes, Hollie Hardy
Monday, July 28 at 7:30 PM
1719 25th Street
Host: Tim Kahl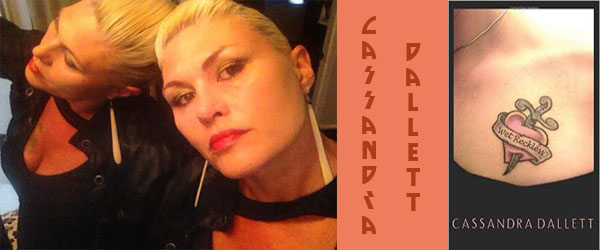 Cassandra Dallett lives in Oakland, CA. Cassandra writes of a counter culture childhood in Vermont and her never ending adolescence in the San Francisco Bay Area. She has been published widely online and in print magazines such as Slip Stream, Sparkle and Blink, Criminal Class Review, Chiron Review and Out Of Our. A full-length book of poetry Wet Reckless will be released from Manic D Press May of 2014.
Baby I Was Born To Run

As soon as I learned to walk stripped my clothes off
into the woods I'd go
my nakedness on the mossy rocks
and the needle pine beds
my parents were high
a kitchen full of fools with six packs and joints to smoke
and I would be out
in the leaves, the dappled light
I knew the names of Jack In The Pulpits and Columbine
the places where trees grew close around me
played in empty hunting camps and abandoned cars
my runaway episodes were legend
a crowd of long hairs fanning out calling my name
down the road and through the trees
they'd find me curled in sleep
under the ferns by the pond.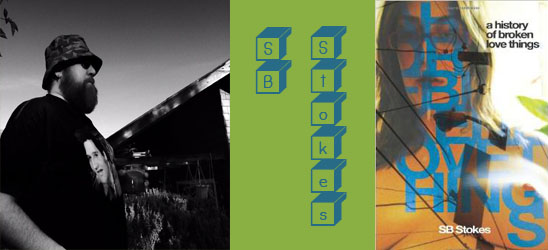 SB Stokes's first book is A HISTORY OF BROKEN LOVE THINGS (Punk Hostage Press, 2014). He has produced the blog MASS COMMUNICATIONS since 2004 and can also be found on YouTube and Tumblr. He holds an MFA in Creative Writing from San Francisco State and is a founder, event producer and an art director for Oakland's free, annual literary event Beast Crawl.
IN THE NEAR FUTURE

If I weren't a werewolf, I'd want to be a vampire, or a robot, from another planet with rings and red smoke, requiring elaborate ventilation systems. Mounted hoses and tubes, decorated with pointless lights, on the exterior surface of my space suit. And despite it being the future, the audio of our communication devices needs to be consistently inconsistent in its reliability and sound remotely, vaguely, like a CB radio from the 1970s, requiring a strict adherence to outdated (even now) and outmoded call-and-response protocols, such as "over" and "out". If I weren't already in space, walking around in a suit that looks like "the future" to some past designer, a witch, or a warlock, or some lonely wizard, with a wand or a staff made of rare and magical wood with jewels, or stones, or crystals, or skulls on it, or around it, or hidden in a secret compartment or pocket on this person's person, traipsing around the modular lander vehicle, made up of a series of polygons, which reminds me of one of my favorite videogames, back when they were still called videogames and you had to have a special machine of some kind to play them. Maybe if I weren't sitting here, crouching really, slumping, cowering, hiding, bathed in the blood of so many bodies, all dead now, or undead, take your pick, zombies or vampires or reanimated automatons driven like tractors by tiny insectoid aliens, nested in the brain, behind the eyes, now gone glowing blind to anything, any input, other than those electrical impulses given and transmitted from the driver aliens, the parasitic overlords who created the realms we fear. If I were a parasitic overlord, I'd still want to be a werewolf ninja pirate vampire superhero mastermind criminal rebel terrorist movie star deviant outsider genius poet from another planet in orbit around a giant magical space station inhabited by futuristic space wizard robots, driven by vampire computers, high on intergalactic deviance, mustache rock and Lucky Lager pumped into my light-spangled, vaguely metallic, space suit as the moons crest the horizon and I begin my metamorphosis.

Hollie Hardy is the author of How to Take a Bullet, And Other Survival Poems (Punk Hostage Press, 2014). She holds an MFA in poetry from SFSU, and teaches writing classes at Berkeley City College. An active participant in the local literary scene, Hardy co-hosts the popular reading series Saturday Night Special, an East Bay Open Mic. She's a core producer for the Beast Crawl Literary Festival in Oakland, co-curator of Litquake's Flight of Poets, and a former Editor-in-Chief of Fourteen Hills: The SFSU Review. Her work has appeared in Eleven Eleven, sPARKLE & bLINK, The Common, A Sharp Piece of Awesome, Parthenon West Review, One Ded Cow, Transfer, Milvia Street, and other journals. She lives in Oakland, CA.  www.holliehardy.com
HOW TO DETANGLE A BIRD CAUGHT IN YOUR HAIR

Once you have grown a luscious mane, gather images on your lion tongue: ripe peaches, sizzle of bacon, crisp campfire scent of an almost winter night, handful of rain or feathers or marbles, the details of sunset, and and fast cars. Weave your materials carefully. Remember that birds like shiny things. The colors and flavors you choose may affect the type of bird you lure into your hair-nest.
It helps to know what you're looking for. The hummingbird is popular due to its size and general friendliness. The swan is elegant but angry. Loons, pelicans and ostriches are obviously to be avoided.
With patience, you will eventually find a bird snarled in your hair. It might not be the bird you initially had in mind. But give it some time. This one may surprise you.
Protect your eyes and face as you attempt to pet the iridescent feathers of your albatross or owl. Avoid wearing a hat. In the event that you tire of this entanglement, the following options are available:
1. Tenderly cut the bird away like a piece of gum from a child's hair.
2. Start a small fire on the back of your head and begin to run.