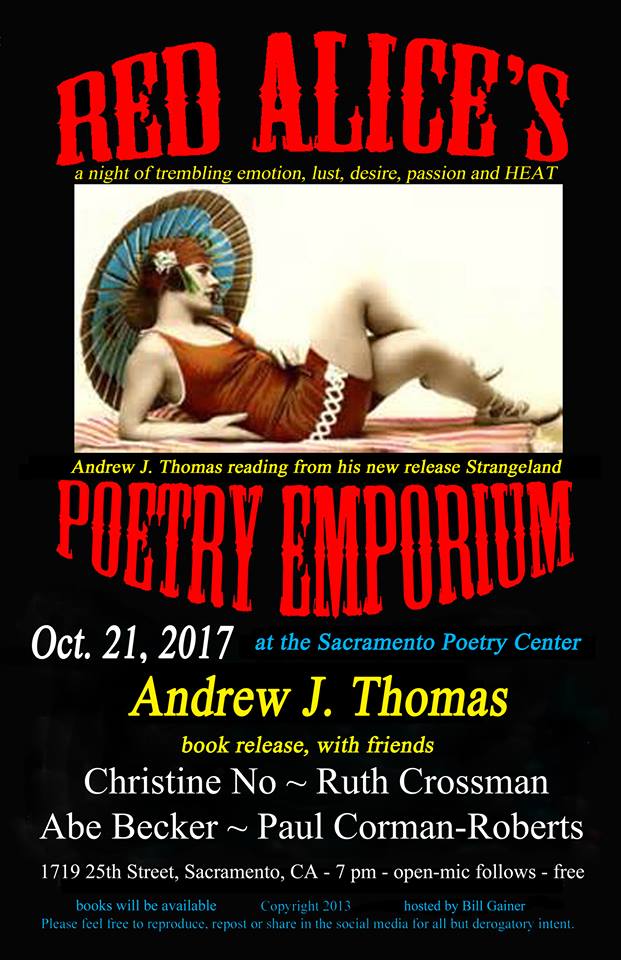 ON SATURDAY, OCTOBER 21, 7 PM
SACRAMENTO POETRY CENTER
~~~ ANDREW J. THOMAS and friends
~~~ LONG AWAITED BOOK RELEASE
~~~ book sale and open-mic follows
Andrew J, Thomas:
Andrew J. Thomas went about this all the wrong way. He's never won any contests or been published in any esteemed lit mags. But he did convince his friend to start a press and publish his book, Strangeland. He is a father, a husband, and a poet. He is a founding member of the annual Beast Crawl Literary Festival held in Oakland even though he lives in Vacaville. He participates regularly in numerous East Bay reading series such as Naked Bulb, Get Lit, and Passages on the Lake that one time. He believes if his poems can you make you cry, then maybe he can too.
Strangeland:
In STRANGELAND, Andrew J. Thomas leads us across the seasons of his life in search of surreal yet commonplace moments that remind us of our own humanity. Autumn focuses on becoming a parent and the harsh realities of divorce. Summer transgresses into hedonistic dalliances while Winter provides a stark contrast with death in its many forms. Finally, the poet's calendar resolves hopefully in Spring with domestic tranquility and quiet contentment.
Friends –
Ruth Crossman:
Ruth Crossman was born and raised in Berkeley, California and currently lives in Oakland. She is a writer and songstress who teaches ESL to support her poetry habit. Her work has appeared in Dryland Lit Review, on the website Poets Reading the News, and Nomadic Press' Full of Crow Magazine, as well as being featured in the most recent anthology from Cleave.
Abe Becker:
Abe Becker's poems have recently appeared in After Happy Hour Review, Drunk in a Midnight Choir, Melancholy Hyperbole, and other journals. A grand-slam champion of UC Berkeley and four-time finalist of CUPSI, twice as poet and twice as Cal Slam's coach, Abe also won group piece finals at the National Poetry Slam with the Berkeley Slam Team. He is a caretaker, cat lover, friend to dogs, and the Poet Laureate of Awkward.
Christine No:
Christine No is an Oakland based writer, organizer & pit bull mama. Find her work in The Rumpus, Columbia Journal, Atlas And Alice, The Oakland Review, Nomadic Journal, (b)OINK and in various anthologies. She is the host of Nomadic Journal's monthly reading series "Get Lit" & a board member with Quiet Lightning. She is a VONA Fellow, a Pushcart Prize and Best of the Net 2017 Nominee, and can't go a day without spilling something. Christine believes in Radical Vulnerability & that Magic exists. Check her out here:  www.christineno.com
Paul Corman-Roberts:
A jack of all trades and a master of none, all Paul Corman-Roberts really does is try to dress up clouds like legitimate platforms. He occasionally produces a book like Coming World Gone World, 19th Street Station, Notes from an Orgy and We Shoot Typewriters. He occasionally produces fiction magazine packages for Full of Crow, and occasionally produces a festival called the Beast Crawl. His next project is a reading series in the old La Val's Subterranean Theater, tentatively called "Crows in the Hills."